Next:
Signature Compatibility
Up:
Static Semantics
Previous:
Declaration Typing
Contents
We appeal to a signature item analogue of the

function from the last subsection.
This is the first judgment where we deal with constructor classes, for the

forms. We will omit their special handling in this formal specification. Section 6.3 gives an informal description of how constructor classes influence type inference.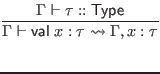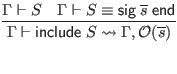 ---
2014-07-14